Every month the Price Edge team puts together a curated list of all the must-read pricing articles picked-up from a variety of trusted online sources.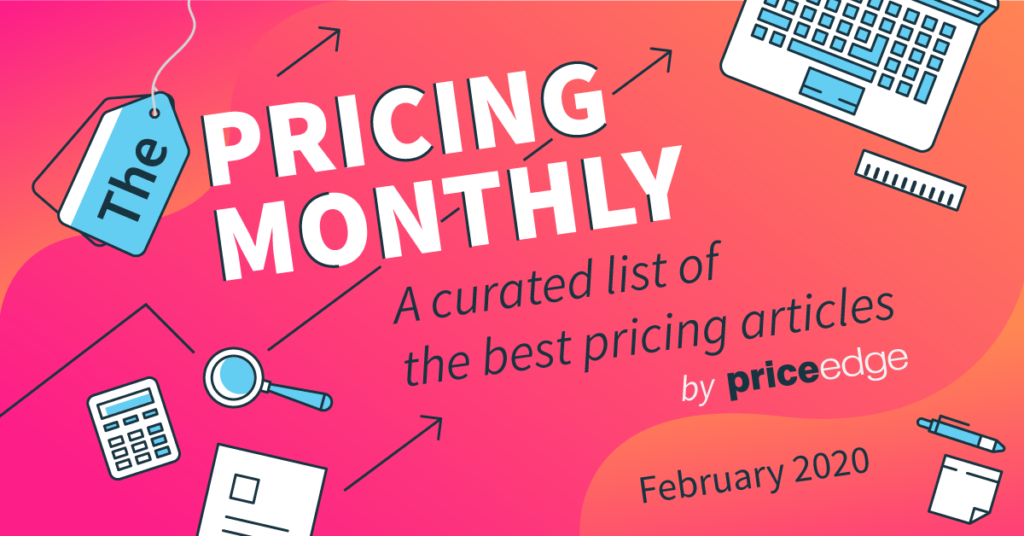 If you are curious and looking to learn more about pricing, you should definitively read the Pricing Monthly.
Here is a list of last month's best pricing reads:
Price actions and customer experience (Ibbaka)
Harnessing Pricing Power to Create Lasting Value (Bain)
Podcast: The Successful Pricing Transformation Journey (PPS)
3 Measures for Construction Wholesalers to Compete with Increasing Online Competition (Simon Kucher)
Pricing Policies That Protect Your Brand (Harvard Business Review)
How Dynamic Pricing Can Save Brick-and-Mortar Retail in 2020 (365 Retail)
Where Should Pricing Decision-Making Live Within an Organization? (Insight Partners)
Pricing Dashboard Design (Tim J Smith on LinkedIn)
5 Ways to Escape Pricing and Sales Pressure through Digitalization (Simon Kucher)
Competitive Pricing Intelligence (Loon Lee Spielmann on LinkedIn)
Pricing Algorithms: The Next Step In An Outdated Business Model (Forbes)
How to do a competitive analysis in 7 steps (John Boitnott on LinkedIn)
The data you need to collect to inform pricing actions (Ibbaka)
Wondering about how you could put all these new ideas to work inside a pricing software? Then make sure to check out our pricing software and book a demo with one of our pricing experts.