Every month the Price Edge team puts together a curated list of all the must-read pricing articles picked-up from a variety of trusted online sources.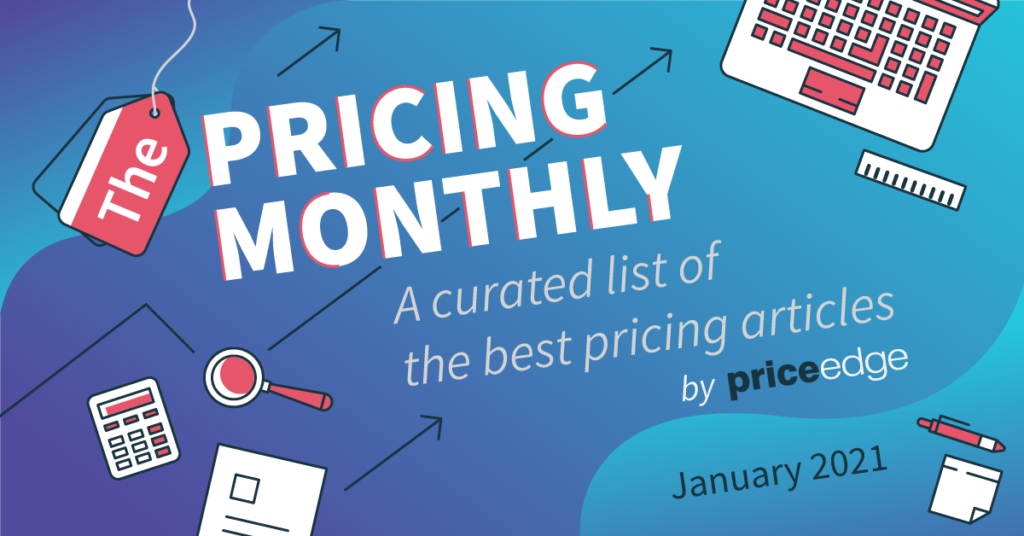 If you are curious and looking to learn more about pricing, you should definitively read the Pricing Monthly.
Here is a list of last month's best pricing reads:
Five Pricing Trends for 2021 (Good, Better, Best)
5 Reasons Not To Raise Prices on Existing Customers. And 2 Better Ways to Do It Anyway (Jason Lemkin on LinkedIn)
Top 10 Pricing Tips for 2021 (Mark Peacock on LinkedIn)
4 Pricing Strategies That Can Turn Innovation Into Revenue (Salesforce 360 Blog)
Normative decomposition of the profit bridge into the impact of changes in marketing variables (Journal of Revenue and Pricing Management)
Tool: The List Price Map (The Pricing Conundrum)
Pricing Transformations In 2021 (OpenView Partners)
What are people predicting for pricing in 2021? (Ibbaka)
The top three mistakes made with pricing (Sjofors & Partners)
Podcast: The Power of Behavioral Economics in Pricing with Florian Bauer (Impact Pricing)
Market Cap Pricing (Mark Stiving on LinkedIn)
How To Prioritize Features That Get Customers To Buy: Understanding What Influences Willingness To Pay (Forbes)
Two Ways Marketers Realize Stealthy Price Increases (The Pricing Conundrum)
Pricing as a design problem (Ibbaka)
Podcast: The Pricing Masterclass with Madhavan Ramanujam & Pete Flin‪t‬ (NFX)
Fixed Costs Matter to Your Business – NOT Your Pricing (Mark Stiving on LinkedIn)
Pricing Trends 2021 (Prof. Roll & Pastuch)
Wondering about how you could put all these new ideas to work inside a pricing software? Then make sure to check out our pricing software and book a demo with one of our pricing experts.