Every month the Price Edge team puts together a curated list of all the must-read pricing articles picked-up from a variety of trusted online sources.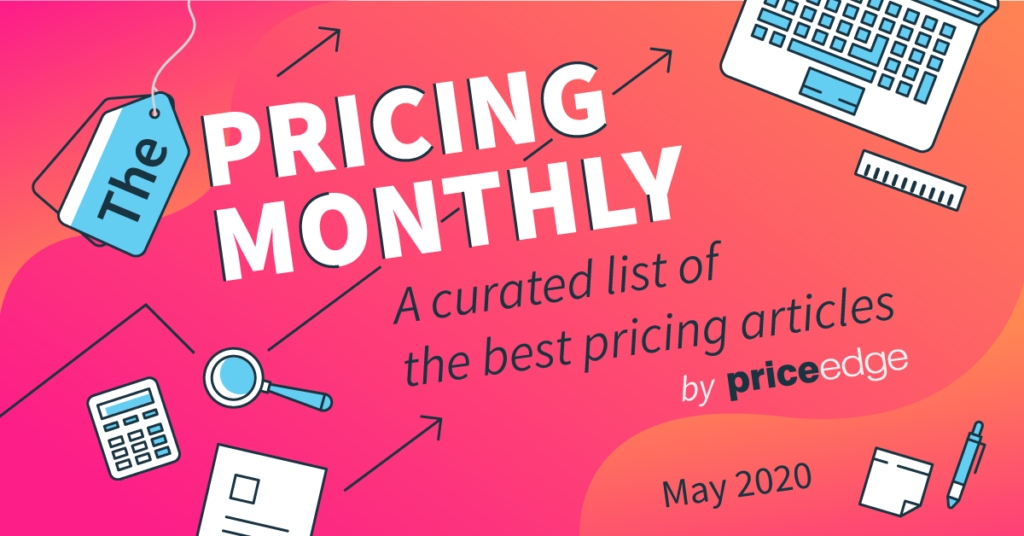 If you are curious and looking to learn more about pricing, you should definitively read the Pricing Monthly.
Here is a list of last month's best pricing reads:
Pricing Organizational Excellence (Tim J Smith on LinkedIn)
How to Avoid the Auto Industry's Looming Price War (BCG)
What is Value-Based Pricing? (Ibbaka)
EPP Thought Leadership Series 1/2020 (European Pricing Platform)
Leadership and Ethical Dilemmas in Raising Prices (Davik Mok on LinkedIn)
How To Price Your Product: A Guide To The Van Westendorp Pricing Model (Forbes)
When to price predictive analytics (Ibbaka)
New Propositions and Pricing in the "Six-Feet" Economy (SKP)
The Power of Market Segmentation in Pricing (Mark Stiving on LinkedIn)
Bringing Order to Discounts Gone Haywire (Bain)
How To Price Products: Optimizing Your Pricing Strategy As A Growth Lever (Forbes)
You Need More Customers, Not Higher-Paying Ones (Inc.com)
Podcast: Who has the most pricing power with Steven Forth (Impact Pricing Podcast)
Podcast: Everything you wanted to know but were afraid to ask (acquired.fm)
Wondering about how you could put all these new ideas to work inside a pricing software? Then make sure to check out our pricing software and book a demo with one of our pricing experts.